Casa al Vento is a winery in Gaiole that I have known for quite some time now. I was there recently as they picked their next to last vineyard of Sangiovese. With the long dry summer they waited as long as possible to let the fruit fully mature before the harvest, reaching optimum sugar levels to ensure proper alcohol content in the finished wine. The grapes were beautifully tended this year and pruned carefully. On this day, several people hand picked, placing the grapes in the plastic containers that are then collected in the tractor and brought up the hill.
The 2009 harvest is the first for Casa al Vento under the direction of award winning winemaker Stefano Chioccioli. Even though Casa al Vento wines are already respected and successful (the 2007 Aria was just awarded Due Bicchieri from Gambero Rosso!), the Giofredda family is striving to make even better wines that are true to their soil and region. In the pictures below you can see some of their new investments at work - a new destemmer attached to a hand sorting table, leading to a two-step crushing system.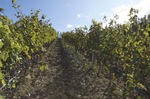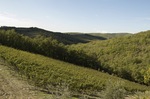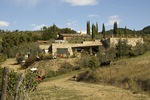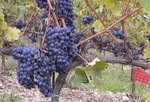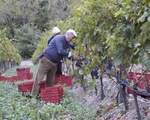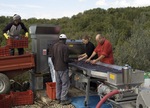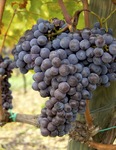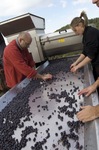 The grapes are sorted through at several steps, through pruning during the growing season, during the hand picking, and then the berries once separated from the stems are sorted again by hand to remove any stray stems, leaves, or poor fruit. The grapes are then crushed and the must is sent on to a stainless tank for the first fermentation. There are also photos of pumping over some wine that was harvested earlier and is already fermenting, and a shot of the temperature and humidity controlled barrique room. I can't wait to taste the 2009!