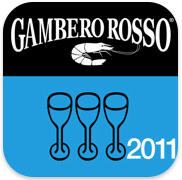 Gambero Rosso Italian Wines 2011
has been completely revised to make it more attractive and easier to use and includes over 20,000 wines and 2,350 wineries. Find all the descriptions of prize-winning three glasses wines for the last ten years, with a special section dedicated to ones that sell for under twenty dollars.
Features:
Search for wine by name, producer, type, region, price, variety and score
Wine reviews including variety, appellation, price, Gambero Rosso score, with the possibility of adding your own photo, commenting, or sharing the information on the principal social networks
The unique section devoted to all the wines receiving awards from Gambero Rosso: new this year, all the three glasses wines of the last decade and a special section for the three glasses winners costing under fifteen euros.
Develop your own wine cellar, using the time-tested evaluation forms developed by Gambero Rosso
2,200 reviews of wineries by zone, complete with production information, list of wines, services offered and all contacts necessary to organize your visits.
Extra content to help you understand how the three glasses method of evaluation was developed and works today, and a mini-guide on pairing food and wine.