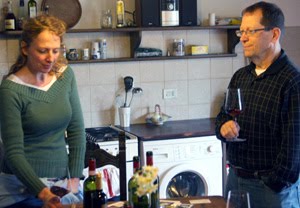 Late last fall I got an email from Howard Hewitt (that is Howard with Arianna Gelpke from Corzano e Paterno in the photo) - he was going to be in Tuscany and was looking for an alternative wine tour. He had found Florence Wine Merchants somewhere on the web, and we started an email dialogue that ended up with us taking a trip to the wineries/agriturismos of Corzano e Paterno and Fattoria Rignana, with a stop for lunch in Greve in Chianti for good measure.
Howard was kind enough to write up some of our experiences that day (New Year's Eve day 2009!) and also explain what I am trying to do here with Florence Wine Merchants in a new article that just went live on the Palate Press: "Small Italian Wineries Struggle to Crack U.S. Market"
I can't thank him enough for his help in spreading the word. Check out his blog Grape Sense - A Glass Half Full when you get a chance.