Sorry this is a little late, we attended the Christmas Gala at St. James church last night and I didn't get to post everything I wanted to in time.
First, there is this, which is happening today and tomorrow in Buonconvento (thanks to Anna Lisa at Fattoria Resta for passing it along):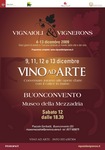 Il Museo della Mezzadria Senese di Buonconvento vi invita Sabato 12
Dicembre 2009, a partecipare all'iniziativa "Vino ad arte" - Conversare
intorno alle opere, nel museo, con il calice in mano. La manifestazione
è promossa da Regione Toscana, Slow food, Arsia e Fondazione Sistema
Toscana.
www.vignaiolievignerons.it
L'ingresso è libero e l'incontro avrà luogo dalle ore 18.30 alle ore
19.30 presso il Museo della Mezzadria Senese.
Vi aspettiamo numerosi.
Museo della Mezzadria Senese
Piazzale Garibaldi 10
53022 Buonconvento (Si)
Tel. 0577-809075
Cel.334-6694871
www.museomezzadria.it
And also today in Florence there is a free tasting at Enoteca Alessi (they have started to do these on Saturdays instead of the usual Thursdays):
... cari Amici,
ultimo appuntamento del 2009 per le Degustazioni Gratuite
siete invitati ad assaggiare un'altra Azienda ... fantastica!!!
dalle 17 alle 19
SABATO 12 DICEMBRE
Azienda Vinicola Varramista
Sterpato '06 - Sangiovese e Merlot, Cabernet sauvignon
Varramista '04 - Syrah 100%
Lo staff dell'Enoteca
And from Gambero Rosso, some things further afield (Rome and Naples):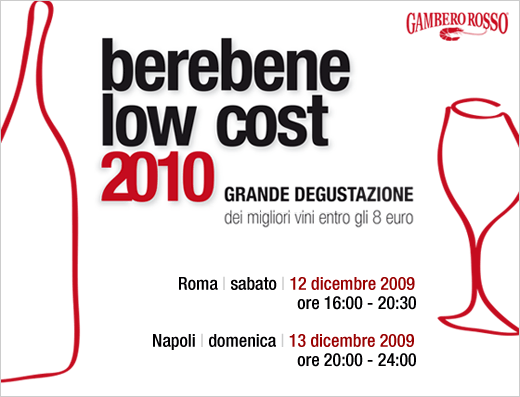 In occasione dell'uscita di Berebene Low Cost 2010, la guida dedicata ai vini che non superano gli 8 euro di costo sullo scaffale, Gambero Rosso organizza due grandi degustazioni a Roma e Napoli per permettere al grande pubblico di scoprire quanto sia facile poter bere bene a prezzi convenienti.

Due grandi appuntamenti da non perdere per poter assaggiare centinaia di etichette e scegliere il vino giusto da portare in tavola ogni giorno.

Roma
sabato 12 dicembre ore 16.30-20.30
Città del gusto
via E. Fermi, 161 (zona Marconi)
Prezzo del biglietto 18 euro - Abbonati Speciali 15 euro
Per acquistare on-line clicca QUI

Napoli
domenica 13 dicembre ore 20.00-24.00
Città del gusto - Terrazza del Vino Wine Bar
via Coroglio, 104/57 (zona Bagnoli)
Prezzo del biglietto 18 euro - Abbonati Speciali 15 euro
Per acquistare on-line clicca QUI