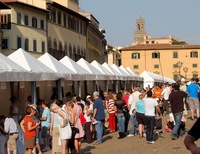 Last weekend was the Florence Wine Event here in - you guessed it - Florence. I had walked around a bit early Saturday morning and was almost going to skip the tasting - the event this year seemed a little heavy with large commercial producers, and after Greve and Panzano in consecutive weeks I was thinking it may have been prudent to take the weekend off :)
Luckily my wife talked me out of that, and we ended up going in the afternoon on Sunday. If you have been following along here at all you know I am not a huge fan of LARGE wineries (San Felice, Antinori, etc.), but there were a couple of new small names to explore, as well as a whole section of biodynamic or organic producers (this category in Italy needs some further explanation but I will save that for another post).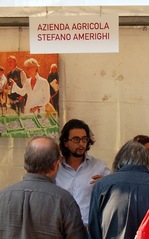 Something that got my attention - and especially caught my eye - was a Syrah from Cortona made by Stefano Amerighi (that's Stefano in the photo).
I don't really know enough about Syrah to say anything intelligent about this wine. I can tell you that is was one of the most stunning looking glasses of wine I have seen - it seemed to be sparkling like a ruby in the glass. And it was delicious, with a velvety finish. This is a tiny artisan producer making just a few thousand bottles if I recall correctly. It would be nice to plan a visit there.
For the second year in a row I was impressed with something from Toblâr - this time their sparkling Ribolla Gialla. Not completely dry but very refreshing with citrus flavors and very attractively priced - we have a bottle and are planning on doing a video tasting.
I'll add a couple of other notes soon!